This time at Shinjuku Kabuki-cho, "Ramen Jiro" ...
I corresponded to the branch of "Ramen Jiro" which is deployed in the head office in Mita, I disturbed at this store for the first time.
After having drunk in a pub in Kabuki-cho, you will find a shop by a passing street (just like that) I will have the next ramen.
『Ramen Jiro』
Shinjuku Kabuki-cho Store

In late September 2016, Shinjuku Kabukicho store of 『Ramen Jiro』 was renewed and it was a new and clean store.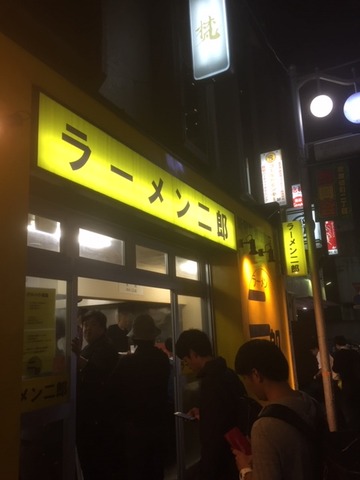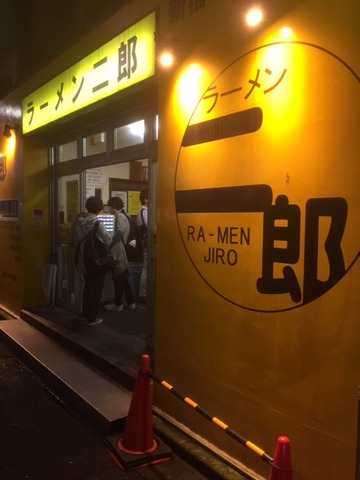 『Ramen Jiro 』Shinjuku Kabuki-cho store exterior
Water is self-service.
I pumped water into the cup with a water supply near the entrance of the shop, and put it in my hand while I put the astragal in it.
Although it is somewhat stupid sight, behind the counter seat is widely taken and everyone in the store has lots of water cups.
It has become so with the relation that there is a water supply machine at the entrance of the shop ... (It would have been better if we put a water supply machine around the front of the queue (the back side of the store)?)
It will be guided to vacant seats in the order in which they are lined up, but it seems to be guided by checking the number of vacant seats and the number of groups lined up and the next is a couple with a couple behind in the back of the raccoon dinner it was done.
This is somewhat damaged feeling, but it is efficient for judging a queue.
A few minutes later I was able to sit safely.
Because the noodles are boiled together, first check the appearance of the whole.
Most of them were standard ramen.
Raccoon is waiting for a while waiting for tickets for "Large ramen (¥ 800)" ...
And finally Jiro 's ramen came out.
It was 40 minutes since I was queuing in line, so I often waited for me who did not like rows.
I think that it is thanks to the alcohol you ingested in the first case.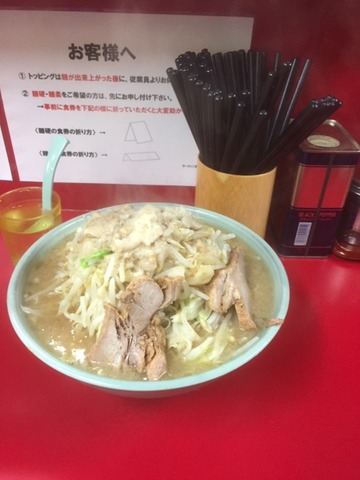 Large Ramen
The ingredients are boiled mozzh with sliced thick slices.
Noodles are extremely flat flat shredded noodles and they are quite awkward.
The soup was soy sauce flavor, but it fits the noodles and it was delicious.
I also tried hanging out, but I also enjoyed it.
Unlike Mr. Jiro Mita, the amount is not so much, but although it was the second one, it was a little unsatisfactory for the raccoon stomach.

Noodle menu is
 Ramen (¥ 700)
 Chashu Ramen (¥ 800)
 Chashu Ramen W (¥ 900)
 Ramen Large (¥ 800)
 Chashu Ramen Large (¥ 900)
 Chashu Ramen Large W (¥ 1000)
 Tsukemen (¥ 800)
 Tsukemen Large (¥ 900)
there is.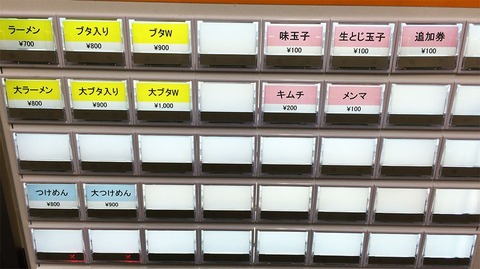 Ticket-vending machine

You can increase the amount of Yasai (bean sprouts, cabbage) / garlic / backfat / spicy (regular oil) for free, and you will be asked for a topping after serving noodles.
At this stage we will order the amount of topping (possible to Mashimashi)
Most customers added "Mashi" or "garlic", but Tanuki asked for "Mashimashi all" at the limit in this shop.
In reality, I wanted to go to the mountains where I often see on TV ...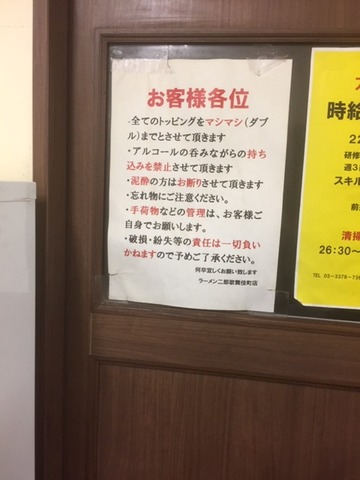 【Rules】 Mashimashi at Kabukicho store ...

Soup is based on pig bones, soy sauce taste with a lot of oil content.
A thick body that is slightly emulsified and has a moderate thickness, with a thick mouthfeel.
There is no smell, the taste of a powerful pork bone is felt firmly, there is a rich with the pungently engraved garlic and backfat, and it is a mellow taste combined with Caeshi sauce!


There is not a salty taste in salty taste, a sweetness of fat is added to soup and it is very tasty as there is one extra large size fat body as much as one chashu!



Noodle is a very thick noodle of flat beating.
There is also a drinking-street thing, the boiled-down feeling feels soft, I have a strong stiffness but it seems it is easy to eat it is cooked.
Tangle with soup is very good, every time you chew the wheat incense comes through to your nose and it's delicious!
Chashu(Roasted pork fillet)

Chashu has 2 big broth pork.
With a cut with a thickness of about 1 cm, lifting with chopsticks "softens and spreads" a soft texture.
Seasoning is medium, taste of meat is strong, it does not have any smell, it is very tasty!

You can also taste with desk sauce sauce, rice oil, flavor, pepper.
Sponsor
Inside the store

There are 14 seats in the counter.
It is spacious and has space waiting in the shop (wait for stand with a cup next to the wall).
However, since the rotation was very well directed to the counter, the bowl provision was also quick and the waiting time was hardly noticed.
I was wearing the inspection equipment at the hospital on the day, so I left "soup left" soon (the usual raccoon dumpling is drying policy) It seems that blood pressure monitoring is also done So ...
"Gotisousamadeshita!"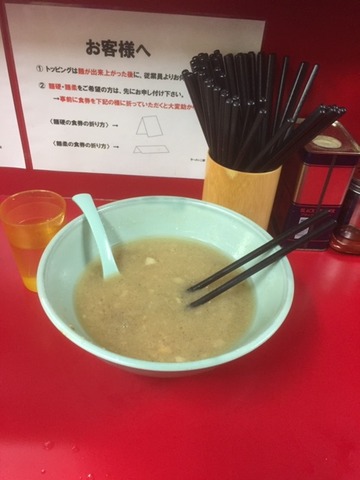 Dinner where I finished eating
Store info
(Ramen Jiro Shinjuku Kabukicho store)

Address: 2-37-5 Kabukicho Shinjuku-ku, Tokyo
TEL: 03-3205-1726
Opening Hours: 11: 30 ~ 3: 00
Closed holiday: Wednesday
  (in the case of a holiday, it changes on Thursday the next day)
Nearest station: Seibu Shinjuku Station
The shop I went to the first incident ...

By the way ... the first one was here.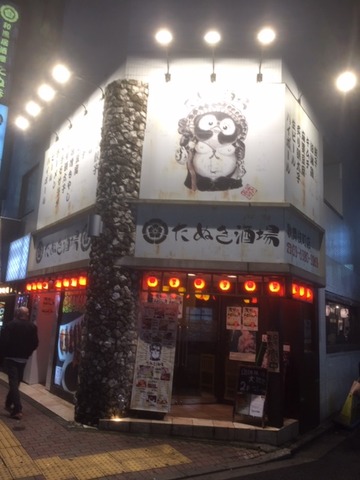 Tanuki Bar
It was a shop that entered destiny from the signboard ... It is a secret that "I drunk with the inspection equipment attached"

Anyway, toast to Kabukicho!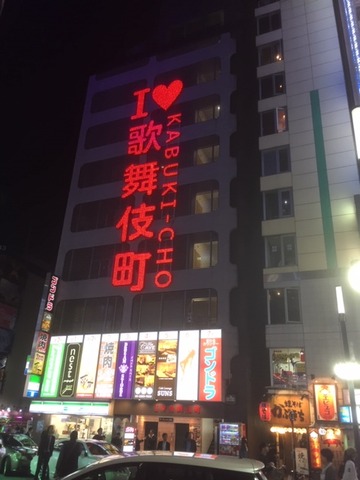 I love Kabukicho
Then the I returns to the nest.
It would be greatly appreciated if you could
click on ↓ to cheer